Thyristor Controllers
STC3000 Series for transformer coupled and complex loads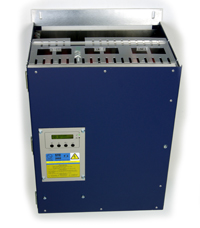 STC3000-800A
Click image for larger view


FEATURES
Current ratings from 80A to 1100A standard

Multiple feedback modes

Comprehensive limit setpoint facilities

Conservatively rated at 50°C (45°C 800A unit) ambient temperature

Modbus® RTU or optional DeviceNet /Profibus communications facility

Multiple I / O capability

2 x 16 line LCD display for configuration and display of operating conditions

True RMS measurement of current and voltage

Simple installation - compact design
GENERAL DESCRIPTION
This is a modern range of thyristor stacks, specifically designed for control of AC heating loads in medium and high current applications for furnaces, ovens, dryers etc. These stacks are particularly useful where current limit is required (eg loads with low cold resistance), or for use with generator sets, or when feeding the primary of transformers. They are fitted with 2 analogue inputs and one analogue output, 6 isolated digital inputs, and 2 isolated digital outputs, 1 relay alarm output, and Modbus ® RTU compatible comms, providing a comprehensive systems capability. DeviceNet or Profibus DP communications are available as an option.
OVERVIEW OF FACILITIES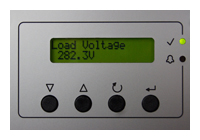 Click image for larger view


LOAD CONFIGURATION
3 - wire star or delta, 4 - wire star, 6 - wire open delta.
FIRING MODES
The stacks operate in either phase angle mode, or soft start burst fire mode. Provision is made to switch between operating modes using a digital input. Current limit may be applied in either mode; in burst fire mode the stack will phase back if current limiting action is required. In burst fire mode the cycle time and the soft start / finish times may be independently set.
FEEDBACK MODES
In phase angle mode the stack may either be operated open loop, or closed loop with V, I, V2, I2, V rms x Irms, or I2 / V2 transfer feedback. The I2 / V2 transfer is useful with loads which have a low cold resistance. The control signal initially controls the current fed to the load, until the voltage feedback signal becomes greater than the current feedback signal, when control is switched to voltage. Current limit action may also be applied.
In burst fire mode the stack operates open loop, with or without line voltage feedforward compensation, as selected.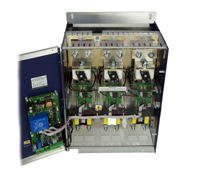 STC3000-800A
Click image for larger view


CONTROL AND LIMIT SETPOINTS
Control and limit setpoints may be provided as analogue inputs, settings on the LCD display, or via the comms link. There are two analogue inputs, so one may be assigned to control and one to a limit setpoint.
Setpoints available are; control, current limit, voltage limit, power limit. In theory all can be operational simultaneously.
Provision is made for limit setpoints to be activated / de-activated by means of digital inputs.
DIGITAL INPUTS
Six opto-isolated digital inputs are provided. These may be used as either sink or source in association with 24V DC plc / logic systems, or, using the energising supply provided, with volt free contacts.
They are assigned to; phase angle / burst fire select; 3 off limit enable; control setpoint local (keypad or comms) / remote; stack enable.
DIGITAL OUTPUTS
Two opto-isolated digital outputs are provided, which may be used as either sink or source in conjunction with 24V DC plc or relay logic. They are used to indicate that the stack is enabled and whether a limit setpoint is controlling the load current or voltage. In addition a relay output is available (volt free contacts), contacts rated up to 250V AC, which is allocated to an alarm condition.
ANALOGUE OUTPUT
One analogue output is provided, which may be used as a retransmission signal of; Load Voltage, Load current (average of 3 currents), Load Power
More detailed product information is available on our downloads page