Other Applications
Trace Heating
Our SRC series thyristor stacks find application in temperature control of large trace heating systems. Trace heating is often supplied from the secondary of a transformer which supplies the correct voltage to match the maximum loading to the length of heater tape. We can supply thyristor stacks with special operating voltage to suit these applications.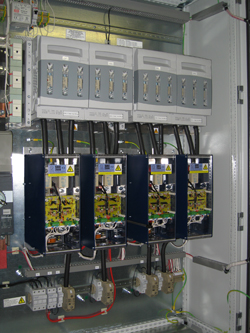 Control panel for a 400kW heat treatment oven using four of our SRC2000-125A Thyristor Stacks
Infrared heating
Traditionally phase angle control was used with infra red heaters to obtain a constant element temperature without rapid fluctuations caused by the switching action of burst fire control which typically has a cycle time between 0.5 and 2 seconds. Phase angle control suffers from poor power factor and causes radio frequency interference and harmonic distortion. In many cases single cycle control has a fast enough switching action to be a suitable alternative. In 3-phase applications, using our patented controller or RLS2000 thyristor controllers it can be used with lower cost 2-leg control.
Fuel Oil Heating
Our thyristor stacks and controllers have been applied in power station and marine applications to heat heavy fuel oil. Our SRC series or RLS thyristor stacks are used with either fast burst fire or single cycle control. On large systems multiple thyristor controllers can be used with an LSC2 load sequencer with fast stage rotation to distribute power evenly between the heater elements, or for lower cost, combined thyristor / contactor control.
Applicable product information is available from our products pages