Furnaces & Ovens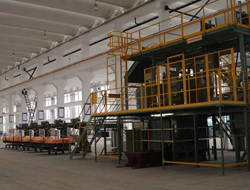 Continuous casting machine type RS3000 manufactured by Rautomead Ltd, Dundee, casting Cu Mg rod. The furnace power is controlled by a Caledon STC3000 thyristor stack rated at 800A. Picture courtesy of Rautomead Ltd
Caledon Controls has been supplying the Industrial Furnaces and Ovens sector since our inception in 1993 and are suppliers to major OEMs and end users. We have two series of thyristor controllers suitable for diverse applications at higher power levels in this industry:-
1 SRC1000, SRC2000, SRC3000
This series of thyristor controllers is designed for burst fire control of resistive loads, either single phase or 3-phase with either 2-leg or 3-leg control configurations. They typically find applications in all styles of heat treatment ovens and furnaces at temperatures up to 1100 degrees C. Other applications are in the plastics and food industries.
2 RLS2000 and RLS3000
This series of thyristor controllers has comprehensive firing modes (burst fire, single cycle burst fire, soft start burst fire, phase angle) making it suitable for the control of both resistive and transformer coupled loads. It is a lower cost alternative to our STC3000 series where closed loop control of voltage or power is not required, and is a suitable replacement for our earlier STA series
3 STC3000
This series of thyristor controllers is aimed primarily at applications with transformer coupled low voltage heater elements, such as graphite, carbon composite or low resistance metal, possibly with high temperature coefficient of resistance. These controllers operate in phase angle or soft start burst fire mode, and offer flexibility of control mode, current limit and digital communications (Modbus RTU, DeviceNet or Profibus). They have particularly robust electrical characteristics, essential when controlling the primary of a transformer, where any spurious firing of the thyristors can lead to high inrush currents and associated fuse blowing or thyristor failure.
Typical applications are in the melting of non-ferrous metals, high temperature heat treatment, and in vacuum furnaces.
Controlling Silicon Carbide Elements
Silicon carbide elements are used in high temperature furnaces with air or inert atmosphere. They have the following characteristics:-
1 The maximum power loading must not be exceeded
2 The furnace temperature control system should not temperature cycle the elements excessively
3 The element resistance increases as the element ages, requiring the effective applied voltage to be increased over the lifetime of the element.
Traditionally these requirements were met with the use of multi-tapped transformers and / or phase angle control. An alternative in some applications is to use single cycle control. This is sufficiently fast acting to maintain a constant element temperature without temperature cycling. A limit may be applied to limit the effective power loading when the elements are new and have lower resistance without the resultant poor power factor associated with phase angle control. Our CB17-2 single cycle controller has a manually adjustable power limit potentiometer. This controller comes in panel mounted or DIN rail mounted versions and is used in conjunction with our SRC series thyristor stacks.
Applicable product information is available from our products pages