Oil & Gas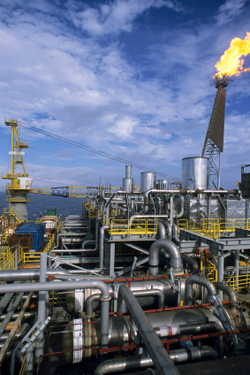 Caledon Controls has a strong product offering for heating control applications in the Oil and Gas sector. Our primary clients are heater and control systems OEMs and our products are in use by the major oil and gas expro companies worldwide.
Typical applications are:-
Fuel gas heaters
Glycol reboilers
Our SRC2000 and 3000, or newer RLS2000 and 3000 air cooled thyristor controllers offer burst fire and single cycle burst fire control of resistive heater loads with current ratings up to 800A.
For those who prefer to use their own thyristor / SCR assemblies our CB18 thyristor trigger modules are industrial grade devices which use high voltage MOSFETs rather than the more common low current thyristors to attain superior resistance to false triggering in noisy electrical environments.
Our RLS series thyristor drivers are complete solutions for the control of 3-phase thyristor assemblies, accepting analogue input control signals and providing comprehensive firing modes (single cycle, burst fire or phase angle) together with auto / manual facilities and phase failure alarm.
Our CB17-2 controller is used to provide advanced single cycle thyristor control (or optionally, burst fire control). Single cycle control minimises heater element temperature variation and helps to avoid problems with generator speed control. Our patented single cycle control algorithm maintains load balance in 3-phase systems using lower cost 2-leg control.
Our LSC2 load sequencing controller (and earlier CU02 load sequencer) is used to split a large heating load into smaller more manageable stages so that problematic electrical supply disturbances associated with switching large loads are reduced. Versions for in-line heater systems are available for use with a combination of thyristor / contactor control or all thyristor control. All thyristor control can also be used in a method specifically aimed at the temperature control of large vessels with distributed heaters, in which the heating power is cycled round the heaters to maintain even heating throughout the vessel. The load sequencers use the same patented single cycle control algorithm as the CB17-2.
Applicable product information is available from our products pages.