INSTRUMENTATION
RLS Series Thyristor Drivers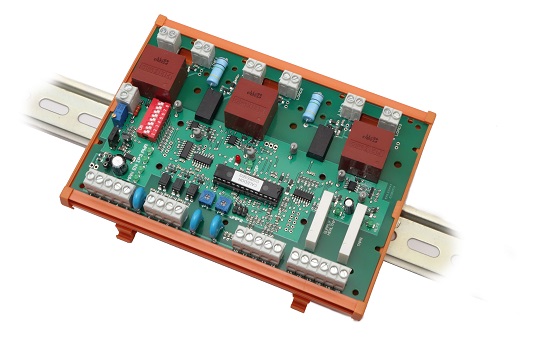 Click image for larger view


FEATURES
0.8A peak drive current for pairs of reverse parallel thyristors (20V / 24 ohm source)
200V to 690V operation without adjustment
Automatic phase rotation detection and line synchronisation
Comprehensive user selectable firing modes
Switch between two firing modes during operation using a digital input
Suitable for transformer coupled loads
Accept 0-5V, 0-10V, 1-5V, 2-10V, 0-20mA, 4-20mA control input
Also accept logic (SSR Drive) control signal in burst fire or single cycle burst fire mode
Auto / manual (local / remote) facility
Galvanically isolated digital inputs
Require a 24V DC supply for the control electronics
GENERAL DESCRIPTION
These thyristor driver / controllers are designed for the control of reverse parallel pairs of thyristors in 3-phase AC heating applications in either burst fire, single cycle burst fire or (3-leg control only) phase angle control modes. The comprehensive user-selectable range of firing modes ensures that the one most suitable for a particular application can be chosen - after trying the different modes if wished. The controllers accept a standard analogue input control signal and provide isolated drive pulses for the gates of reverse parallel pairs of thyristors. The load may be either 3-wire star or delta or (with 3-leg control only) 4-wire star connected. All types have modes suitable for the control of transformer-coupled loads.
The controllers are suitable for use on 3-phase supplies with nominal line voltage between 200V and 690V RMS (phase voltage up to 400V). Over this voltage range synchronisation and phase rotation is determined directly from the 3-phase supply via the thyristor cathode connections. A separate synchronisation input is provided (using a special adapter) to enable operation on a 24V RMS supply for use on low voltage high current test rigs.
The high current drive pulses are suitable for use with thyristor assemblies having a rated current of up to 1000A and more.
The controllers can replace a Caledon CB17-2 controller and 2 or 3 off CB18-2 triggers for operation in burst fire or single cycle burst fire control modes and (3-leg) provide the additional flexibility of phase angle operation.
Optionally the controllers can accept a logic type control signal compatible with the Caledon LSC2 load sequencer logic outputs and low cost SSR drive outputs available on many temperature controllers. This enables their use with the LSC2-Logic load sequencer in multiple thyristor systems, but only in applications which do not require phase angle control. (Phase angle control can be used if the modulating stage is fixed as stage 1, when the LSC2 analogue 0-5V output can be used).
The controller requires a 24V DC supply to power the control electronics.
There is provision for a small optional daughter board to be fitted which can provide supplementary functions such as additional digital I/O or digital communications or (with 3-leg control) current limit facilities. Check availability of these options.
More detailed information is available on our downloads page