THYRISTOR CONTROLLERS
SRC Series for Resistive Loads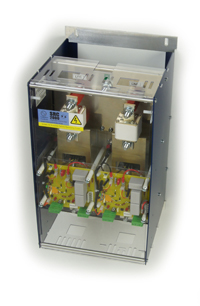 SRC2000-315A
Click image for larger view


FEATURES
Space saving compact, slimline design
Robust conservatively rated construction
Current ratings from 63A to 800A
Long life ball bearing fans
Built in EMC filters
Built in semiconductor fuses
Logic control input as standard
Fuse / Phase failure alarm output
GENERAL DESCRIPTION
This range of thyristor stacks has been specifically designed for burst fire control or single cycle burst fire control of resistive loads in medium and high current heating applications for furnace, ovens, dryers etc. These units use a proven MOSFET driver circuit, originally developed in 1995, and feature closely controlled zero-voltage switch on, and low crossover commutation noise.
They are available in single phase (SRC1000), 2-leg 3-phase (SRC2000) and 3-leg 3-phase (SRC3000) versions.
The standard input is a logic signal. An optional analogue input driver card is available, but when an analogue control signal is required we recommend the use of our RLS2000 / 3000 series which have more comprehensive facilities.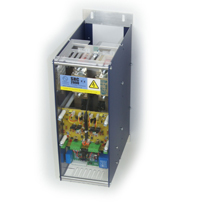 SRC2000-125A
Click image for larger view


The stacks have generously sized heatsinks and power semiconductors to ensure long term reliability. The power connections are to stud terminals, which are reliable at elevated temperatures, and under conditions of temperature cycling.
The line to line EMC filter capacitors ensure very low conducted emissions, and together with MOV and snubber protection, contribute to very high immunity to conducted interference.
The top and bottom removable mounting clips help simplify installation and subsequent removal for maintenance if desired. The covers enclose both power and signal connections to protect against accidental contact. The width of the units has been kept small to simplify side by side mounting in multi-zone applications.
More detailed product information is available on our downloads page